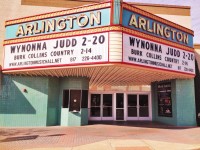 There is a great new attraction in Arlington.  It is "Downtown Arlington", which has become a vibrant center of entertainment and dining in a people-friendly park-like setting.
During the summer there will be a special trolley service – the "Downtown Express" – between District hotels and the restaurants and entertainment venues in central Arlington.  This is an on demand service, please call the on duty Supervisor at (817) 504-9744 with any request for service. On demand stops are not serviced on event days.
Entertainment
Schedules of downtown events may be also be found at:
The Downtown Arlington site: downtownarlington.org.
The City of Arlington site: arlington-tx.gov/visitors.
The Arlington Convention & Visitors Bureau site: experiencearlington.org.
Restaurants
UTA College Park District – In downtown Arlington there is a 20-acre area that is now developing as a new, unique part of the campus of the University of Texas at Arlington known as the College Park District.  At the heart of the area is a new university special events center known as College Park Center.  Adjacent to the center is mixed-use development of student housing, retail stores and restaurants and a University welcome center.
UTA features attractions, year-round, including sports, cultural and entertainment activities. See uta.edu/collegeparkdistrict. UT Arlington has a world-class planetarium that schedules both daytime and evening shows. See uta.edu/planetarium.
The College Park District is adjacent to the downtown area served by the Downtown Express and is only a short walk from the Levitt Pavilion.  While the Downtown Express does not schedule specific service for College Park Center events, it provides easy access to the University area.
RESERVATION REQUIRED: The service is free to District hotel guests, but is offered on a reservation only basis.  Make reservations by calling 817-538-0777.  Reservations must be made not later than 4:00 PM on the day of service.  Service is subject to space availability.
Reservations will be accepted anytime in advance but no later than Four PM the day of the desired trip.  Requests made after noon on the day of the desired trip will be honored on a space available basis.  Reservations must be made for individuals or a family.  All adults must have a reservation, only two adults per reservation will be accepted.