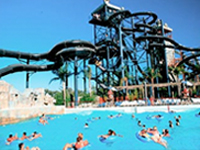 1800 E Lamar Boulevard
Arlington, TX 76006
(817) 640-8900 | Visit Website
The Trolley District provides route-based trolley service to Hurricane Harbor on each day of that park's regular season, commencing service one-half hour before park opening and continuing until park closing.  The last evening departure from Hurricane Harbor is at the time of park closing.  Plan your park visit so that you will be at the marked trolley stop near the Hurricane Harbor entrance at closing time.   The trolley cannot wait on you!
Trolley service information is available at most hotels on a monitor located in the hotel lobby.  When checking in at your hotel, ask the front desk clerk about the monitor location.
The announced trolley route service starting time is the time of departure from the hotel on each route most distant from the park or attraction served.  For scheduled hotel departure times, consult the schedule at the hotel.  For arrival time at the hotel, see "Next Bus" on the trolley monitor; or, if no monitor is present, consult the front desk clerk.
The service schedule is subject to change as Hurricane Harbor may add to or revise its schedule. Please consult the Hurricane Harbor website for current operating hours.