Arlington Trolley Info
Operations/Service: 817-504-9744
Administration: 817-652-9290*
(*Available Mon -Fri 8am - 5pm)
www.arlingtontrolley.com
Real Time Trolley Arrival Times
Today
| Attraction | Open | Pickups | Departures |
| --- | --- | --- | --- |
| Six Flags Over Texas | 5:00 pm - 10:00 pm | 4:44 pm, 5:21 pm, 5:44 pm | 5:00pm, 5:37pm, 6:00pm, 6:30PM, 7:00PM, 7:30PM, 8:00PM, 8:30PM, 9:00PM, 9:30pm, 10:00pm |
| Globe Life Field - Texas Rangers | 7:05 pm | 5:30 pm, 6:15 pm | starts 20 min after game (or after fireworks) |
Tomorrow
| Attraction | Open | Pickups | Departures |
| --- | --- | --- | --- |
| Six Flags Over Texas | 11:00 am - 8:00 pm | 10:44 am, 11:21 am, 11:51 am, 12:21 pm, 3:21 pm | 11:00 AM, 11:30 AM, 12:00 PM, 3:00 PM, 5:00 PM, 5:30pm, 6:00pm, 6:30pm, 7:00pm, 7:30pm, 8:00PM |
| Globe Life Field - Texas Rangers | 6:05 pm | 4:30 pm, 5:15 pm | starts 20 min after game (or after fireworks) |
A Trolley pass issued by your hotel is required to board.
If you do not have a pass, please see the front desk.
Attraction Schedule
Apr 16
Apr 17
Apr 18
Apr 19
Apr 20
Apr 21
Apr 22
Friday
Saturday
Sunday
Monday
Tuesday
Wednesday
Thursday
Six Flags Over Texas
5:00 pm
10:00 pm
11:00 am
8:00 pm
11:00 am
6:00 pm
*
*
*
*
Six Flags Hurricane Harbor
*
*
*
*
*
*
*
Globe Life Field - Texas Rangers
7:05 pm

6:05 pm

1:35 pm

*
*
*
*
* indicates the attraction is closed / no baseball game, or no Trolley service offered.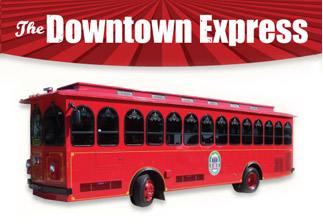 Make reservations on-line at 
ArlingtonTrolley.com
or by calling
817-538-0777
Reservations must be made not later than 4:00 PM on the day of service. Service is subject to space availability.

The Levitt Pavilion for the Performing Arts - Offers a series of 50 free shows - music, dancing, and the performing arts, during summer evenings.  May 30 through September levittpavillionarlington.org 
Arlington Country Music Revue (formerly Johhny High's) Live Country Music at the Arlington Music Hall. arlingtonmusichall.com
Theatre Arlington - Community theater in a casual setting featuring a wide range of plays - musicals, drama, comedy. theatrearlington.comThe Downtown Express Serves many restaurants, that are listed on the website.
This service will be provided, from 5:30pm until 10:30pm March 9th  through September 27th. Please check calendar for days of service.