Route(s)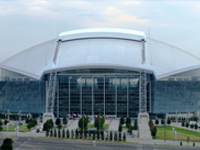 900 E Randol Mill Rd.
Arlington, TX 76011
(817) 892-4161 | Visit Website
The Trolley District provides free route-based trolley service to AT&T Stadium, home of the NFL Dallas Cowboys, on those days when route service is scheduled to Six Flags (see Six Flags / Hurricane Harbor) BUT ONLY IF THERE IS NO SCHEDULED STADIUM EVENT ON THE DATE OF SERVICE. 
Trolley service information is available at most hotels on a monitor located in the hotel lobby.  When checking in at your hotel, ask the front desk clerk about the monitor location.
EXCEPT ON DAYS WHEN THERE IS A STADIUM EVENT, this service will be available daily from the time route service commences each morning  (see Six Flags / Hurricane Harbor)  until 6:00 p.m., Monday through Saturday, and 5:00 p.m. on Sunday.  Please refer to the AT&T Stadium website for details concerning Pro Shop and stadium tour hours of operation. 
The Yellow Route serves the stadium.  Passengers on the other routes must transfer at Six Flags Over Texas. Tell the trolley driver on boarding; the driver will give instructions concerning service to the stadium.
AT&T Stadium Events
Arlington Trolley Gets You to AT&T Stadium Fast and Easy!
As a registered guest of one of several Arlington hotels, you can make a reservation for round-trip service from your participating hotel to AT&T Stadium for certain events. The participating Hotels are:
Round-Trip Passes cost just $20 per rider + a low service fee of $2.09. (No one-way passes available. All transactions are non-transferrable and non-refundable. Passes must be purchased no later than 4 hours prior to the event.)
View Current Events or  Purchase Your Round-Trip Pass for the Trolley.*
Once you book your ticket online, you will receive an email with your ticket attached. Please print this and present to your hotel front desk staff for verification that you are a guest in the hotel. Once verified, they will stamp your ticket. You will present this stamped ticket the Trolley driver for departure to AT&T stadium. You will also need to present this same ticket for your return trip to the hotel.
Important Details about Your Ride to AT&T Stadium
The Trolley drops riders off only a 10-12 minute walk from AT&T Stadium at Nolan Ryan Expressway and E. Randol Mill Road.**
Trolley service begins 2.5 hours before events and ends 1.5 hours after the events.
For the return trip, Trolleys make continued runs every 30 minutes between the drop-off site and the hotels.
The Trolley can arrive/depart anytime within a 15-minute window of the scheduled time. To be sure you catch the Trolley, you should be at the stop 5-10 minutes before your scheduled time!
* Reservations for the Arlington Trolley are through Eventbrite, a partner of Arlington Trolley.
** The Arlington Trolley drop-off location on event days coinciding with Texas Rangers games will be at the Arlington Visitors Information Center, a 12-15 minute walk to AT&T Stadium.