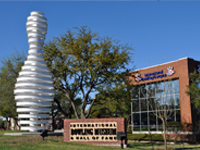 621 Six Flags Dr.
Arlington, TX 76011
(817) 385-8215 | Visit Website
The Trolley District provides route-based trolley service to the International Bowling Museum and Hall of Fame on each day of the regular trolley season, commencing service one-half hour before Six Flags Over Texas park opening and continuing until park closing. This is an on demand service, please call the on duty Supervisor at (817) 504-9744 with any request for service. On demand stops are not serviced on event days.  The Museum is not open on Sundays and Mondays.
Trolley service information is available at most hotels on a monitor located in the hotel lobby.  When checking in at your hotel, ask the front desk clerk about the monitor location.
This attraction is located on the Blue Route.  Guests at hotels on other routes should take their route trolley to Six Flags and transfer to the Blue Route.
The announced trolley service start time is the time of departure from the hotel on each route most distant from the park or attraction served.  For scheduled hotel departure times, consult the schedule at the hotel.  For arrival time at the hotel, see "Next Bus" on the trolley monitor; or, if no monitor is provided, consult the front desk clerk.
See the bowling website: www.bowlingmuseum.com, for current operating hours