Route(s)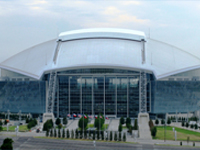 900 E Randol Mill Rd.
Arlington, TX 76011
(817) 892-4161 | Visit Website
The Trolley District provides free route-based trolley service to AT&T Stadium, home of the NFL Dallas Cowboys, on those days when route service is scheduled to Six Flags (see Six Flags / Hurricane Harbor) BUT ONLY IF THERE IS NO SCHEDULED STADIUM EVENT ON THE DATE OF SERVICE. Arlington Trolley does not provide on demand service to AT&T if there is a scheduled event. 
Trolley service information is available at most hotels on a monitor located in the hotel lobby.  When checking in at your hotel, ask the front desk clerk about the monitor location.
This service will be available daily when Six Flags is open and there is no event at the Stadiums from the time route service commences each morning  (see Six Flags / Hurricane Harbor)  until 6:00 p.m., Monday through Saturday, and 5:00 p.m. on Sunday.  Please refer to the AT&T Stadium website for details concerning Pro Shop and stadium tour hours of operation. 
The Yellow Route serves the stadium.  Passengers on the other routes must transfer at Six Flags Over Texas. Tell the trolley driver on boarding; the driver will give instructions concerning service to the stadium.