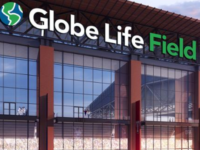 734 Stadium Dr
Arlington, TX 76011
817-273-5100
| Visit Website
The Trolley District provides route-based trolley service to Globe Life Field, home of the American League Texas Rangers, for each home game of the Rangers' season, usually commencing one and one-half hours before the game starting time with return to hotels immediately following the game.
Trolley service information is available at most hotels on a monitor located in the hotel lobby.  When checking in at your hotel, ask the front desk clerk about the monitor location.
The announced trolley service start time is the time of departure from the hotel on each route most distant from the park or attraction served.  For hotel departure times and other Ballpark service information, consult the lobby trolley monitor; or, if no monitor is present, consult the front desk clerk.
The service schedule is subject to change as the Texas Rangers' schedule or game times may be revised.  Please consult the Texas Rangers' website for their current schedule.
Nextbus predictions DO NOT APPLY to Texas Ranger Ballpark service.
Route service is available to the Ballpark on non-game days – to take a Ballpark tour or to visit the Grand Slam Shop for Rangers sportswear and memorabilia – on any day when there is route service to Six Flags Over Texas.  Transfer may be required on some routes.  Consult the Texas Rangers website for information concerning Ballpark tours and shop location and hours.