Frequently Asked Questions
Lost and found items are kept at the Trolley Office. Call (817 )652-9290 to see if your item has been turned in.
---
There is no trolley service or on demand service to AT&T Stadium if there are Stadium events. On other days, the Trolley will  stop on demand at AT&T Stadium. If the Trolley is servicing an event at AT&T Stadium, it will be by reservation only on the Special Events page.
---
The trolley runs March through September when Six Flags and Hurricane Harbor are in operation and for all Texas Ranger Home games. Service to Six Flags and Hurricane Harbor begins thirty (30) minutes before the opening of the park and ends when the Parks close. Texas Ranger service begins ninety (90) minutes prior to the first pitch and ends thirty (30) minutes after the last pitch. Each day's schedule is available on  the Trolley website at www.arlingtontrolley.com.
---
---
There are four (4) trolley routes marked with a separate color for each route. To get to and from your hotel and the attractions you need to be on that route. The pass you receive will be the same color as the route you should ride.
---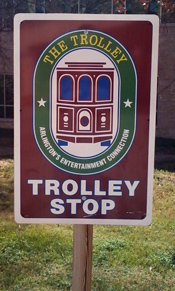 There is a trolley stop conveniently located near the front door of your hotel. Check with the front desk for the exact location. The trolley stop is marked with a sign that looks like the image to the right. Trolley stops are located at the trolley terminal at Six Flags, the front gate at Hurricane Harbor and along Ballpark Way at the Ballpark. The trolley will pick you up at the same location it drops you off at each of the attractions. The trolley only stops at these marked locations.
---
Yes. Color coded trolley passes are available at the Front Desk of your hotel. The pass is the same color as the route serving your hotel. You need to re-board that route at Six Flags, Hurricane Harbor or The Ballpark to return to your hotel. Each guest, including children age 5 and above are required to show the trolley pass to the driver when they board.  You may also be asked to show your room key to the trolley driver on boarding.
---
Guests of District hotels may use the trolley without payment of a fare.
---
Transfers Between Routes: Guests may transfer between routes at the Six Flags trolley stop.


All trolleys are Wheelchair Accessible and smoke free. Call 817-504-9744 for special needs.
Trolley service is limited to registered guests of hotels participating in the Arlington Entertainment Area Management District.